"Public and special jury award winner at Festival Vitesse Lumière 2006 in Quebec city Canada"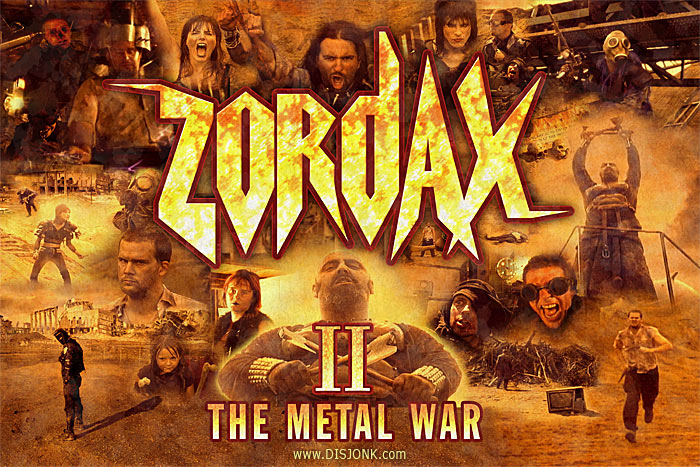 Click here to watch
ZORDAX II THE METAL WAR


ZORDAX II : THE METAL WAR

Post apocalyptic short movie, 12 minutes, mini-DV
2006, Quebec, Canada

Synopsis

In a post apocalyptic world, a scavenger looks for anything to survive... things start to turn nasty as our hero gets captured by Zordax' men.

This movie is located in a post apocalyptic future starring MIKE WATERS (desert scavenger), TOLGA KARAER (ZORDAX) et CHRISTO LEPOVSKY (Dr Cergum) with special guest stars Cathia Deland, Hans Gauthier and Carnior.

Cameras were handled by Thierry Bouffard and Carnior. They gave me lots of help during shooting. The film soundtrack was produced by Hans Gauthier (Chernobyl Cha-Cha/ Tranzistor Bop), Manhattan Love Suicides and Pasquipaz who also handled sound editing.

Costumes were furnished by Valérie Gagnon-Hamel. The outrageous laboratory machines of Dr Cergum were nicely lended by Dominique Engel. We can also see some props furnished by Painter and Scuplter Jean Pronovost.

Éric Bilodeau who's a reference in post production contributed to some of the special effects. I contributed the main part of post production

Zordax II : The Metal War is inspired by 80's Italian post-apocalyptic movies like After the Fall of New-York, The New Barbarians and the very obscure Endgame.

The world premiere of Zordax II : The Metal War at the Québec Vitesse Lumière festival was a great success. Zordax II shared with Allan Brown's surrealist film Donkey Harvest the Metéore people's choice award for the friday night official selection and also a special Metéore from the jury.



Reviews :
www.post-apocalypse.co.uk: post-apocalypse - the post-apocalyptique, post-nuke
Quietearth.us : Post apocalyptic, PA, Post-Nuke: Zordax II
Arrow in the Head review by Jimmy O
Le Club des Monstres : Critique par Mario Giguère (In french at the bottom of the page)
Tomb It May Concern : Post apocalytic Euro trash
Horreur.com : Review by Colin Vettier (in french)
Sep7.ca: Spasm science-fiction night review (in french)
MIKE WATERS

DESERT SCAVENGER

TOLGA KARAER
as
ZORDAX

CHRISTO LEPOVSKY
as
Dr CERGUM
CATHIA DELAND
as
MRS ZORDAX

HANS GAUTHIER
as the
WEIRD BARBARIAN

CARNIOR
as the
MAN IN TRASH
ÉLOÎSE GUGY DELAND
as the
POST APOCALYPTIC GIRL

ARIANNE ST-JACQUES FOURNIER
as the
BARBARIAN WOMAN

SIMON LACROIX
as the
GAS MASK BARBARIAN
Screening history
| | |
| --- | --- |
| (World Premiere) June 9th 2006 | Vitesse Lumière Festival , Québec, QC, Canada (Public & special jury award) |
| July 13th 2006 | Cinéma Abattoir, underground video night in Montréal at Zeke's gallery |
| July 22nd 2006 | Fantasia international genre movie festival in Montréal, QC, Canada |
| Novembre 1st 2006 | SPASM festival in Montréal, QC, Canada |
| January 27th 2007 | Tromadance festival ***Article & photos here*** |
| February 24th 2007 | Rendez-Vous du Cinéma Québécois, Montreal, QC, Canada |
| Mars 3rd 2007 | La longue nuit du court, Montreal, QC, Canada (bloc Vitesse Lumière) |
| Mars 17th 2007 | Sortie de ce Court at the Lion D'Or, Montreal, QC, Canada |
| April 6th 2007 Europe premiere | Festival Mauvais Genre Tours in France (surprise screening) * Article & photos |
| April 7th 2007 | Festival Mauvais Genre Tours in France (canadian panorama) * Article & photos |
| April 8th 2007 | Festival 2300 Plan 9 Switzerland (surprise screening) * Article & photos |
| April 28th 2007 | SPASM science-fiction night, Montreal, QC, Canada, (overture film) |
| April 29th 2007 | Congrès Boréal of fantastic litterature (Gros Méchants Films presentation) |
| May 11th 2007 | Festival de Cinéma en cours, Pierre-Laporte secondary school, Montreal (Spasm) |
| May 19th 2007 | Montréal Underground Film Festival, QC, Canada |
| May 25th 2007 | Festival de Cinéma en cours, St-Laurent secondary school, Montréal (bloc Spasm) |
| November 22nd 2007 | Filmets International Festival of Badalona in Spain, Night of the Crypts program |
| December 22nd 2007 | MAO LIVE as part of the New Beijing International Movie Festival in China. |
| March 2nd 2008 | Event organized by Gruesome Nonsense productions , Montreal, QC, Canada |
| March 8th 2008 | Launching of SOLEIL NOIR (post- apocalyptic live action role-playing game) Montreal Canada |
| June 11th 2008 | Vitesse Lumière (best of program) Québec, Qc, Canada |
| October 11th 2008 | Event and exhibition Nuclear Discharge by La Mouche Noire collective Gestel France |
Credits

Produced and directed by
Syl Disjonk

Actors

Mike Waters : The lone hero
Tolga-Mart Karaer : ZORDAX
Christo Lepovsky : Dr Cergum
Carnior : Man in Trash and Barbarian Sniper
Hans Gautier : Weird barbarian
Cathia Deland : Mrs Zordax who gives slap on face
Éloïse Gugy-Deland :Post apocalyptic girl
Arianne St-Jacques Fournier : Barbarian Woman
Simon Lacroix : Gaz Mask Barbarian
MAWA : Barbarian on Intro
Syl Disjonk : Extra Barbarian

With the voice of
Matthew Saliba

Additional screamings
Syl Disjonk
Pazquipaz

Camera and SUPER assistants
Thierry Bouffard
Carnior

Screenplay
Syl Disjonk

Additional ideas
Carnior, Thierry Bouffard, Christo Lepovsky

Original music
Hans Gauthier (Chernobyl Cha-Cha)
Manhattan Love Suicides
Pasquipaz

Sound editing and effects
Pasquipaz

Additional sound design
Myriam St-Laurent Rioux

Narrative
Mattew Saliba

Editing
Syl Disjonk


Special effects

Special effects
Intro sequence
Suicidal decomposition
Matte painting
Compositing
General treatement
Syl Disjonk

Laser ray
Squirting blood, flying machete
Electricity and sparks
Éric Bilodeau

Costumes and accessories
Valérie Gagnon Hamel
Carnior

Makeup
Carnior

Fake skulls and bones
Jean Pronovost

Laser guns
Marcel Coulombe

Machines and laboratory accessories
Dominique Engel

Laboratory scenography
Jérôme Bertrand
Jean François Couture
Carnior

Original name for ZORDAX created by
Daniel Desrosier

Original ZORDAX logo created by
MIKE WATERS


Thanks

Liviu Zurita (Gas mask)
Oliver A. Dubois Simon Lacroix
Nicolas Marois
Auto Bazoo Car location

MEGA thanks to
Carnior and Thierry Bouffard

All Rights Reserved © Syl Disjonk
2045, Civilization is decimated
Blinded by absurd logic, the human race has been taken to the abyss of obliveon.
When there was nothing, a nuclear holocaust has fragmented us, it was the era of the Atomic Nightmare
The Metal War had begun.
Chaos, radiation, epidemics; all of this was pure madness and imagined by the obsession of mankind's germ annihilation.
I have no hope, no dreams to fulfill anymore except to fade away...
Dr. Cergum
| | |
| --- | --- |
| Original | Final compositing |
| | |
Zordax II the Metal War post apocalyptic short film screening flyers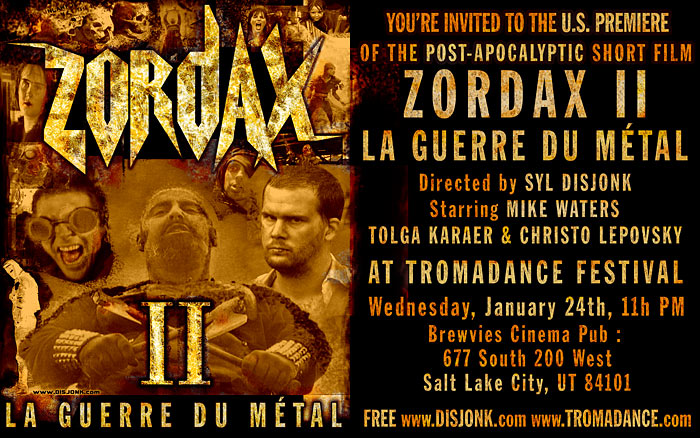 ZORDAX II at Tromadance 2007 - Salt-Lake City, USA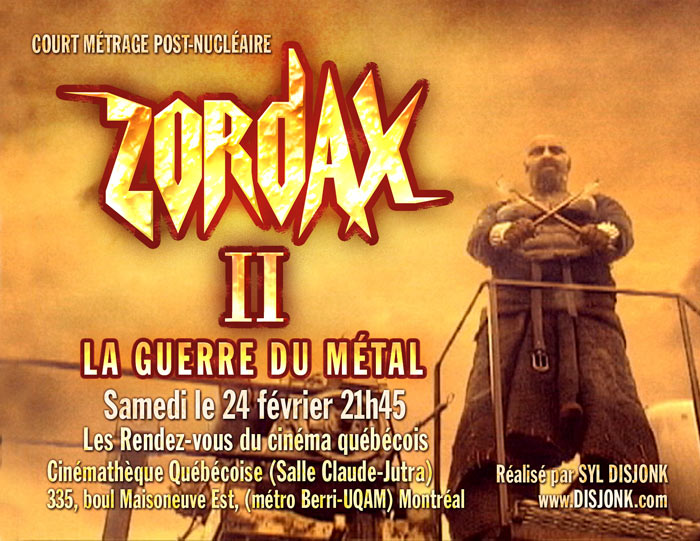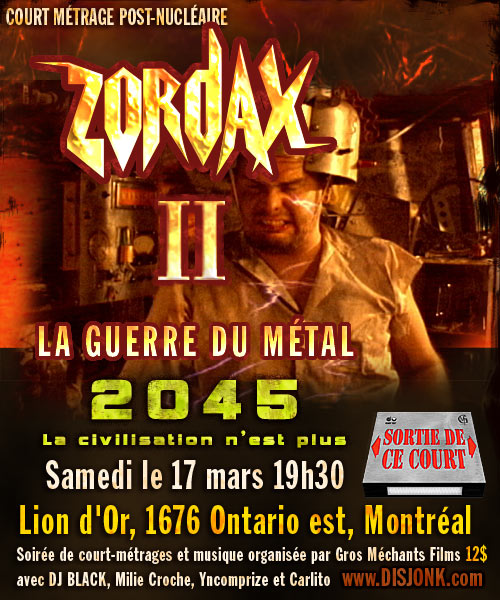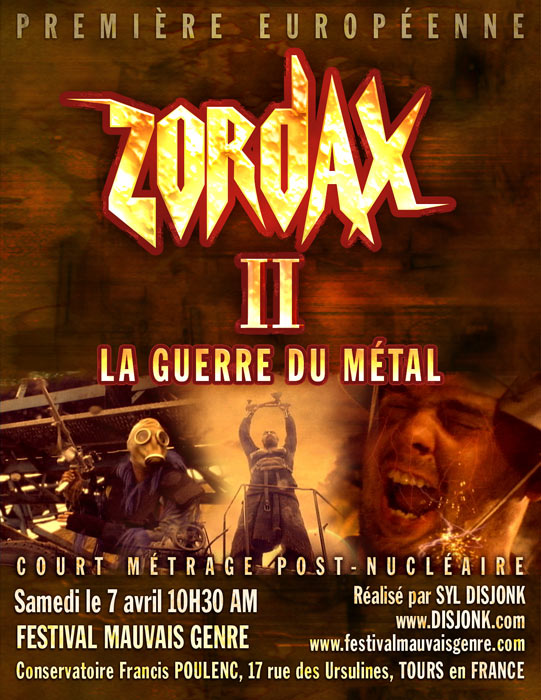 ZORDAX II THE METAL WAR european premiere at the Mauvais Genre Festival in France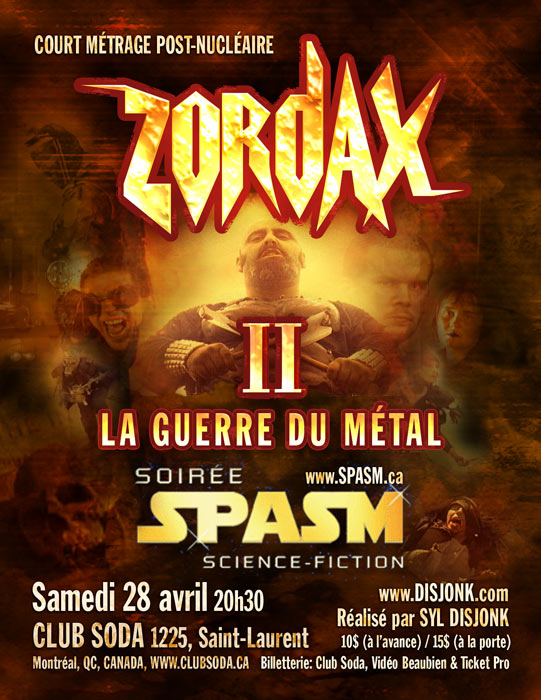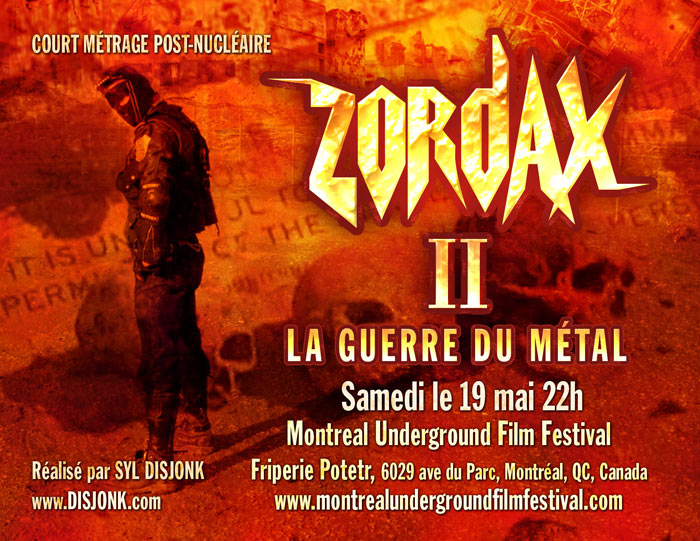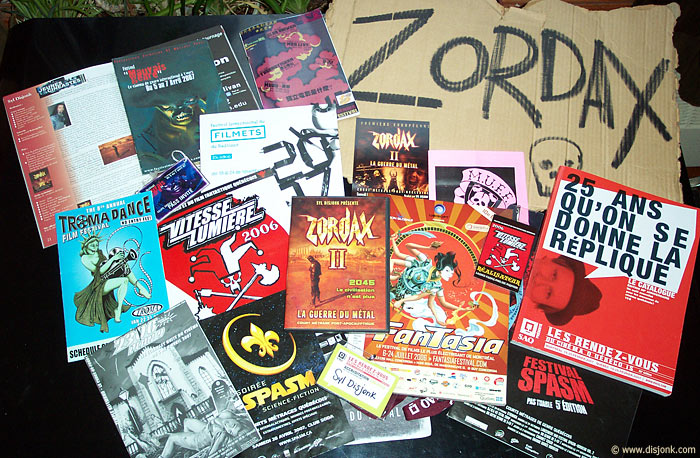 ZORDAX II The Metal War
DVD
SOLD OUT